3/26/2000
Redmonk: IE thoughts: "Important for users of UserLand's Pike: I think that IE now correctly reloads pages that were re-directed to, rather than re-posting whatever data went to the page that sent you there." We haven't checked this out yet, but it's true that IE 4.5 for Macs has some weird behavior with Pike -- behavior that may have been fixed in IE 5. If so, we may end up recommending using IE 5 on Macs. Netscape on Macs has another bug -- you can can't create new stories in Pike. (Not sure if Netscape for Windows has the same bug.)
André: "The phrase of the day here at UserLand is Wiener Schnitzel." Where was I? You'd think I'd notice if we had a phrase of the day. Maybe André's homesick for home cooking? But even I know that Wiener Schnitzel is Austrian.
If you're a Manila server manager trying to get Pike support working on your server, here's a page with a few tips.
It's my birthday today! I turned 32. We took a break, went driving, ate spicy noodles.
I had a great time at ManilaPalooza! Thanks to everyone who attended -- and to the people I got to meet for the first time and the people I got to see again.
Here's the fella who kept refilling my margarita glass at the post-ManilaPalooza dinner: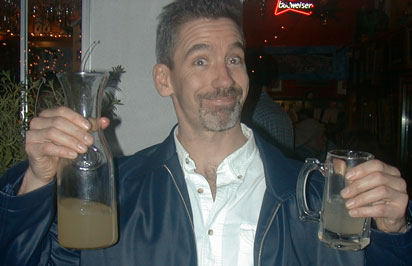 That's Ken Dow, editor of the Manila-Newbies site, author of Manila documentation.
26 Mar 2000