Huevos 1.1b3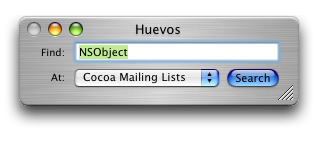 To refresh your memory... Huevos is a very simple tool for searching the Web. It presents a small window with a search field and a popup menu of search engines. Searches are run in your default browser.
You can bring the window to the front from within any application by typing a key combination (which you can set in the Huevos preferences).
Huevos is freeware and open source (BSD license).
The main point behind this beta is to make it so you can use the keyboard to choose a search engine from the popup menu.
Changes in this beta include:
Re-worked Preferences window
Configurable command keys for search engines
Up and down arrow keys navigate through the search engines popup menu
A couple URL encoding bug fixes
More screen shots:
You can add and delete search engines via the Preferences window and set the key combination that brings Huevos to the front:
Here's how you configure a search engine: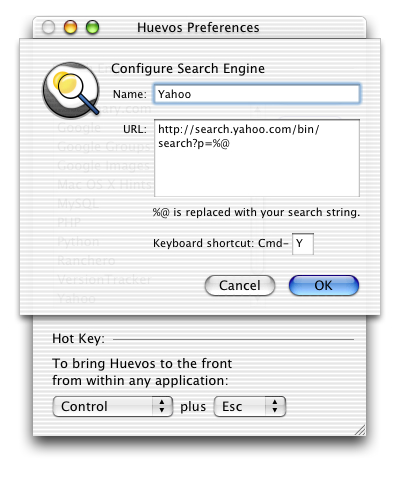 19 Feb 2003